Carpet Flooring in Fort Worth, TX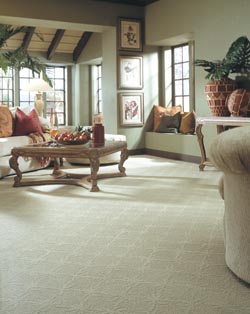 Now is the right time to upgrade and improve the look and feel of your floors. At Mr. G's Flooring America, we offer a huge selection of incredible flooring solutions, including our exceptionally soft carpet flooring in Fort Worth, Texas.
Carpet adds an unrivaled level of comfort to any space in which it is installed, while also providing excellent design options. A carpeted surface is the ideal flooring option for bedrooms and living rooms where comfort is key. Additionally, the modern fibers that are available for carpet make it very easy to keep clean. Visit our store to learn more about the advantages carpets bring to your home and explore our flooring collections to find the right surface solutions for your home or business.
Complementing Your Tastes
At our carpet store, we offer flooring solutions in a range of colors and patterns. This lets you easily find the surface option that perfectly matches your tastes. A new floor is also an excellent way to change the interior design of your rooms, acting as the primary centerpiece of the room's appearance.
Additionally, we offer our carpets in a variety of unique materials, which each have their own feel and texture. Some of the fibers we carry include:
Saxony
Frieze
Wool
Nylon
Polyester
By providing so many different options, our team can help you find the carpeting that is the ideal fit for your home. If you are unsure of what style or pattern you should choose for your new surface, then we are here to help. Our design team will work with you to determine the style of flooring that would best fit with your tastes and décor.
Stain-Resistant Options
If you have children or pets, you may be worried about messes and spills ruining the appeal of your carpeted surfaces. Well, with the major brands and modern designs available at our carpet store, you have nothing to fear.
We offer an extensive selection of stain-resistant carpets that stand up to the frequent messes of pets and children. The materials used in these carpets are simple to clean with spills wiping away before they can damage the padding underneath. Stain-resistant carpets also help to prevent odors from building up in your home.
Installation by Skilled Professionals
After you choose your new carpets in our showroom, you will need to have them properly installed in your rooms. We offer carpet installation services by skilled professionals to ensure your new floor looks fantastic in your home.
Commercial Carpets
In addition to providing exceptional flooring solutions for your home, we also carry a number of commercial-grade carpets. These floors look fantastic in any office and will leave a lasting impression on your customers and clients. So when you need to update the old and faded carpeting in your business, turn to our store to find what you need.

If your search for a "carpet store near me" brought you here, it brought you to the right place! Contact us today to begin your home or business carpeting project.

Contact us to explore our selection of carpet flooring for your home or business. We proudly serve Fort Worth, TX, and the surrounding areas.