Hardwood Flooring in Fort Worth, TX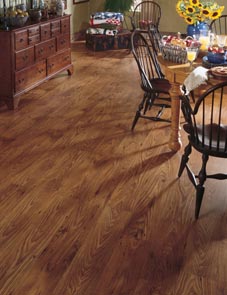 Fill your home with sophistication and character with our wide selection of hardwood flooring at Mr. G's Flooring America. From selection through installation, our friendly team is with you at every step of your flooring remodel. Whether you need help choosing the perfect stain or need a full professional hardwood flooring installation, our team is focused on helping you get the look you have always dreamed of. Every product we sell, including both our solid hardwood and engineered wood flooring, is made from the finest materials available. Start your hardwood flooring remodel today by visiting our Forth Worth, TX, showroom. We look forward to meeting you!
What Type of Hardwood Flooring is Best for You?
Hardwood is a timeless flooring material whose gorgeous appeal upgrades any space. Whether you want to complement a modern dining room or create a rustic living room, we have a vast selection of wood flooring products to match any design. At our Fort Worth flooring store, you can choose from both solid and engineered wood flooring options to find stunning floors that meet both your performance and design needs. Learn more about the types of hardwood flooring we carry:
Solid Wood Floors

- Our solid wood planks are our most durable flooring option, offering the ability to refinish over its lifespan for long-lasting luster. Choose from a variety of wood species, cuts, graining, tones, stains, finishes, and installation patterns for a one-of-a-kind flooring solution that impresses your guests.

Engineered Wood Floors

- Composed of a dense, sturdy core and sealed with a thin veneer of real wood, you can have your ideal hardwood floors with improved performance in high moisture areas. Our engineered wood flooring is excellent for spaces such as kitchens and bathrooms.
The Benefits of Hardwood Flooring
When you are in the market for traditional hardwood floors for your home, shop with full confidence in the affordable, reliable selection at our reputable store. As a member of a national flooring cooperative, we take advantage of significant buying power and pass the savings along to our customers with well-known hardwood brands you can trust, like Downs® and Floorcraft. This way, you can get the design you love and the quality you need without breaking the bank. When you visit our showroom for a design consultation, we can help you make the most of any room in your home. Learn about all the benefits of choosing hardwood floors for your home:
Increases the overall value of your property.

Stunning, timeless designs to match any taste.

Unmatched longevity and versatility with the option to refinish.

Simple care and maintenance.

Engineered wood performs well in high-moisture environments.

Durable in high-traffic areas.

How to Maintain Your Hardwood Floors
Hardwood floors are renowned for their versatility and beauty, but they are also easy to care for with a simple maintenance routine. If you want long-lasting floors that look great, follow these simple hardwood maintenance and care tips:
Sweep or vacuum regularly to remove daily dirt buildup.

Wipe up any spills with a soft cloth.

For heavier messes, use a manufacturer-recommended floor cleaner. Always be sure to ask a flooring professional before using any harsh chemicals.

Avoid scratches by keeping your pets' nails trimmed, adding dirt-trapping mats at entrances, and using felt pads on heavy moveable furniture.
Precise Hardwood Flooring Installation Services
Once you select your ideal hardwood floors, it's time for a professional hardwood flooring installation. Natural wood flooring can expand and contract when subjected to changes in temperature and moisture. That is why getting the best fit possible through our hardwood flooring installation process is all the more critical. When you take advantage of our professional hardwood flooring installation, you are sure to avoid the dangers of warping due to moisture and temperature changes. We are equipped with the right tools, and years of experience required for an efficient, accurate, and flawless hardwood flooring installation. Further, we back each installation with our industry-leading Ultimate Confidence Guarantee. This is our promise that you will love your floors, and if not, contact us within 30 days and we will replace the flooring at no extra cost to you. Ready to start your hardwood flooring renovation?
Contact us today to find your dream hardwood flooring! We proudly serve Fort Worth, TX, and the surrounding communities.