Diverse Selection of Tile Flooring in Fort Worth, TX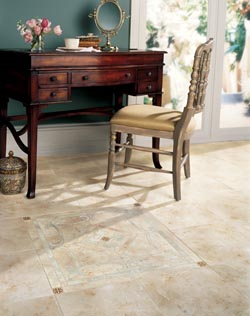 Lay down a foundation that lasts a lifetime by choosing tile for your rooms. At Mr. G's Flooring America, we're pleased to offer one of the most diverse selections of long-lasting tile flooring in Fort Worth, TX. Many different styles are available to choose from, including:
Daltile
Porcelain
Mosaic
Marble
Travertine
Glass
With the right care, these tile surfaces look like new decades after installation-- or even generations. Visit our showroom today to see the beauty of our tiles for yourself and discover the ideal surface for your design goals.
What Makes Tile Special?
For centuries, tile has been one of the top choices of designers and builders across the nation and around the world. How has its popularity endured throughout the years? It's because ceramic tile and similar surfaces have the strength and beauty to endure throughout many years of heavy foot traffic. Furthermore, tile offers homeowners a wide range of other benefits.
First of all, tile is low maintenance. Routine cleaning keeps each tile and the grout gorgeous, and by applying a sealant every few years, you can protect the surface from moisture damage and staining. Likewise, tile's natural water resistance makes it a great choice for wet areas like bathrooms, kitchens, and laundry rooms. Homeowners also appreciate how choosing tile can improve indoor air quality; tile contains no volatile organic compounds (VOCs), nor does it trap dust or allergens.
Finally, whether you choose porcelain tile or another style, you will enjoy significant resale value. Since tile is highly desirable, it's a good investment for anyone who may put their home up for sale soon. In the meantime, you'll enjoy the admiring compliments from everyone who visits.
Tile for All Tastes
Explore our broad range of tile to find the perfect style for your tastes and practical needs. Whether you prefer rustic looks, classic designs, or modern trends, there's a tile surface to suit you.
Not sure what would look best in your room? Don't understand the practical differences between ceramic and slate tile? Our sales associates are standing by to help you choose with professional recommendations and insight. Talk to us today to get the assistance you need to make an educated decision for your home.
Professional Installation Piece by Piece
Installing tile is no job for amateurs. Inexperienced hands often produce skewed results and shoddy workmanship. To ensure your new floor looks great and is covered by its warranty, hire our professionals for tile flooring installation. We get the job done correctly and quickly so your home will be ready to show off in no time.

Contact us for further information on our many tile products. We proudly serve clients from thoughout Fort Worth, Texas, and the surrounding areas.